I will not cease from mental fight. Nor shall my sword sleep in my hand. Till we have built Jerusalem. In England's green and pleasant land.
With money problems slowly sorting themselves out I'm now getting very excited about Glastonbury.
With this in mind, I decided to try and bring together some Glastonbury links for those of you who are going.
Glasto info:
1.
The map. Choose a place to pitch your tent and meet friends.
2.
How to get there.
3.
What you need.
4.
The nasty toilets.
5.
How to get free ponchos if it rains.
6.
The line up.
7.
Keep an eye on the weather.
8.
Mixmag's top tips.
9.
Live on-line.
10.
Telly coverage.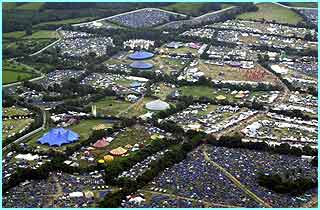 Glasto News
1.
Supergrass replace The Libertines
2.
Tree Hugging.
3.
The movie.
4.
The history.
5.
Oasis to play new material.
6.
Billy Bragg on Glasto.
7.
Benn & Klein.
8.
Glastonbury memories.
9.
The Red Tower.
10.
A message from the coppers.
Love, light and peace,
BykerSink
I saw two shooting stars last night I wished on them but they were only satellites. It's wrong to wish on space hardware. I wish, I wish, I wish you'd care.