If she wanted to be a farmer's wife I would endure that muddy life. I would dig for victory.
I've just slept for 12 undisturbed hours in my lovely bed. Glasto really does take it out of you.
Again, Glasto 2004 was being hailed in some quarters as the best ever. It wasn't but it was pretty good all the same. In the end, the weather stopped it being a classic and the line-up wasn't quite as strong as past years.
Maybe it's just in my head but every year seems to develop a sub-plot. Last year it was the war in Iraq, this year it was nationalism and Englishness in general.
I must admit I was a little perturbed when it was announced that the England v Portugal game was to be shown on the pyramid stage. Like Michael Eavis I feared that it was very much the wrong vibe. But, because of an absence of anything else to do the Thursday night, I attended.
There's something about supporting the England football team that doesn't sit right with me. Not sure whether it's the fans, the media or the team itself that winds me up most but I can't really get excited about the whole England thing. Then of course there is the problem that, as a nation, we tend to turn sporting pride into ugly nationalism.
Either way, watching the game unfold on the large screen wasn't too horrific an experience. Although I had heard that "No Surrender" chants were voiced by some groups. All in all not very Glasto.
When 90 minutes were up I decided against sitting around for the extra time. I took myself off on a wander up through the green fields, to the stone circle which looks down on the rest of the site.
From there I heard the cheers, gasps and moans that pretty much told me what was happening. For Glastonbury, at least, a defeat was probably the best outcome. Certainly I heard no more "Rooooooney" chants that had so quickly become irritating before that.
As mentioned, the festival itself was good if not a classic. Oasis still have the presence to entertain but didn't really seem to put much into their performance. They weren't helped by terrible sound and an over reliance on their first album.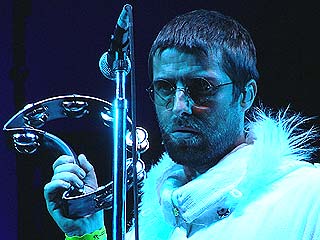 The very next night they were shown how to do it my Macca. While he had none of the coolness of the likes of Radiohead and REM, that had made last year so memorable, he does have the world's best back catalogue. In the end he was spot on. Mixing the obscure with the new and playing the right crowd pleasers. The best Glasto moments are the sing-a-longs. Last year REM's "Everybody Hurts" and Radiohead's "Kharma Police" were just amazing. This year we had the Glastonbury choir enjoying beautiful Beatle tunes.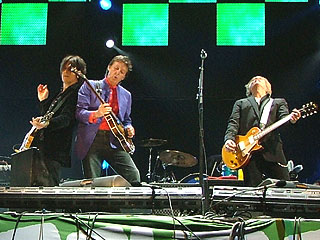 I think it was the youngsters that enjoyed Macca the most. Old enough to know the tunes but young enough not to be tired of them. A bunch of 17 year olds camping by my tent were certainly impressed and kept me awake by talking excitedly about the performance into the small hours.
I didn't watch Muse on the last night. They've never been a band I've taken too. The tunes aren't strong enough and they seem to take themselves too seriously. So, my Glasto Pyramid stage departure was after Morrissey.
And it was Mozza that was the best of the lot for me. Irish Blood English Heart summed it all up. The
lyrics
fitted the mood perfectly. Tens of thousands of fans stood, ankle deep in mud, joining in with the cursing of the royal family, political parties and the hijacking of the flag by the right wing.
Like Oasis, Morrissey appeared grumpy, but he had the style to pull it off. He played only two Smiths songs and it would have been nice to hear more, but he met the crowd on his terms, played what he liked and was still blistering.
Of the Smiths songs, "There is a light" was very special. A typical trademark Smiths songs, outwardly morbid to the uninitiated but life affirming and just gorgeous if you "get it".
His band were just awesome too. Fast, loud, proficient and cool as f*ck.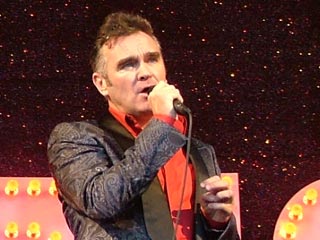 Of the rest of the weekend, other high spots included "Somewhere only we know" by Keane in a set that was most memorable for making the sun come out. I enjoyed Wilco too and a quick burst of Billy Bragg in the Leftfield tent before having to make an early departure to catch Morrissey.
I remain gobsmacked at the festival in general. And I'm tired of all those "It's the new Henley" newspaper articles. It's not and the comparisons are tired. Yes, less than creative Guardian hacks can probably find people drinking Pimms if they try hard enough but they're way more likely to meet someone skinning up a splif or downing 'shroom truffles.
Glastonbury is open to all. And it's spirit means that everyone can enjoy it. The same people who are now complaining about its gentrification we're mouthing off about wall jumping scallies not so long ago.
In the meantime, I shall continue to attend whenever I can. It is a very special place for me and each year provides me with a memory and an experience that will stay with me forever.
This year Morrissey balanced the footie flag waving start to the festival, with some good old fashioned angst.
Good on yer Mozza. And good on Michael Eavis too.
I love Glasto.
Love, light and peace,
BykerSink
I saw two shooting stars last night I wished on them but they were only satellites. It's wrong to wish on space hardware. I wish, I wish, I wish you'd care.