I'm not the one to tell this world how to get along. I only know that peace will come when all our hate is gone.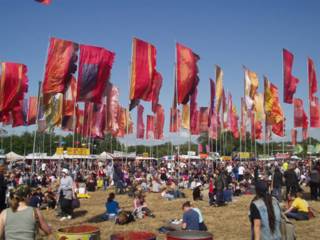 Being as shambolic and disorganised as I am, I take extra pleasure on the rare occasions when a plan comes together.
The various elements that have been clouding and confusing my mind for a couple of weeks seem to be melting away.
First off, the cheque that wasn't supposed to clear till tomorrow, magically was available to withdraw from my account today and so this morning I busied myself sorting out my car.
MOT (check - with flying(ish) colours), insurance (check), tax (check). All sorted today and my car is now roadworthy and legal, ready for that drive down to Glastonbury.
The drive to Glastonbury is always glorious. Full of excitement and anticipation and that "school's out for summer" feeling, it goes in a blink of an eye. Unlike the journey back, of course, that goes on forever.
Actually last year it took four hours just to be out of the car park.
To add to the "coming good" list is the tent. I had only just remembered it had been packed away wet and I'd pretty much convinced myself it would just be a large, unpleasant smelling lump of mildew by now. After putting off giving it a once over, I steeled myself and zipped it open and unfolded it all out. Magically it seems just fine.
Not bad for £30 from Aldis. I'm such a class act.
Just been out and bought Mozza's new CD too. On first playing it sounds like a blinder. I shall be there when he struts his stuff on the main stage. I wonder where I can buy gladioli to twirl? Hope he plays some old Smiths stuff too.
So, once again it all comes together for the luckiest man in the world. Or is that too much fate tempting?
Right now I'm most looking forward to that split second after the tents have been put up, when you collapse on the grass and you're handed a pack of Rizlas and a pouch of Golden Virginia.
Then you get that Glastonbury grin.
Todays Glasto Links:
1.
Top pies at Glasto.
2.
Oasis in "no drugs" shocker.
3.
Opera at Glasto.
4.
A story about poo.
5.
Unsettled Glastonbury weather.
6.
Don't worry though - Macca can control the weather.
7.
Jet replaced by BDB.
8.
Turn Glastocam into your desktop wallpaper.
9.
I want a tipi. Maybe next time.
10.
The Glasto 2003 quiz.
Love, light and peace,
BykerSink
I saw two shooting stars last night I wished on them but they were only satellites. It's wrong to wish on space hardware. I wish, I wish, I wish you'd care.