The sun came up, the trees began to sing. And light shone in on everything. I love you
Never has bad news made me so happy.
It's as much as I can do to fight back tears of joy right now.
I want to get drunk, turn cartwheels in the streets and dance a one man conga up the Quayside.
And what is this bad news?
My
VSO
South Africa job is off.
But when one door closes another opens.
I am now first choice for a job in Hanoi, Vietnam.
Whooooooooooooooo Hoooooooooooooooooo.
Vietnam, Vietnam, Vietnam, VIETNAM.
My most favourite favourite favourite place in the whole world. Two years ago I fell in love with that country. The people are warm and welcoming. The landscape is gobsmacking. The food is unbelievable.
I have long suspected I am the luckiest man in the world. Now I know it. I'm sitting here literally punching the air in between each word I write.
The job will be working with a training organisation that helps street kids. What a brilliant, brilliant placement.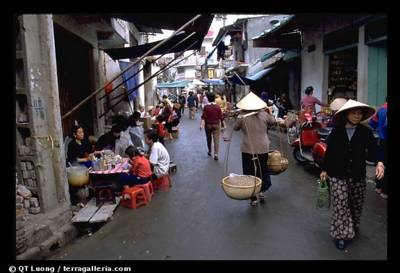 Streets of Hanoi
I would have happily done the South Africa job and I would have completed my two years. The crime scared the living daylights out of me but I would have stuck it out.
But in Vietnam I can have a life. I can sip a beer on a pavement cafe in the evening. I can eat wonderful noodley things dished up by roadside chefs. I can take a boat trip in Halong Bay. I can have the kind of existence I have always dreamed of.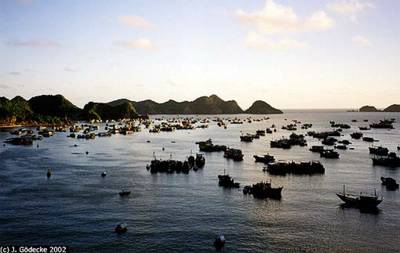 Halong Bay
My friend Teacher Toon has already called me a bastard since I broke the news. He has informed me he will be out to visit as much as he can. My little sister has just said the same.
Vietnam.....YESSS!!!!
Like I said. I am the luckiest man in the world. What are the odds that out of all the places in all the world I would be sent to the country I love the most?
And like my mate said: Hanoi Rocks.
It truly does.
I know nothing is definite, nothing is settled. Like South Africa this could all go wrong. But it won't. I know it won't.
It can't do.
I'm going to live in Vietnam.
What could be more perfect?
Love, light and peace,
BykerSink
I saw two shooting stars last night I wished on them but they were only satellites. It's wrong to wish on space hardware. I wish, I wish, I wish you'd care.