Johnny Johnny Oooooh.
Who's the best player I have ever seen playing for Newcastle?
Could it be the brilliant but lardy Paul Gascoigne? The mercurial Peter Beardsley?
No. It's neither.
It's also not Chris Waddle, who evolved into a genius somewhere between Tow Law and Marseille.
Tino - brilliant but not the best.
My favourite player is easy - it was Tino Apsrilla - but he wasn't the best. Neither was Sir Les Ferdinand or former European player of the year Kevin Keegan.
And it's not even God himself, Alan Shearer.
No, the best player I have ever seen at Newcastle United is Jonathan Woodgate. And he looks like he's leaving. To Real Madrid no less. With the price tag at somewhere around £15m.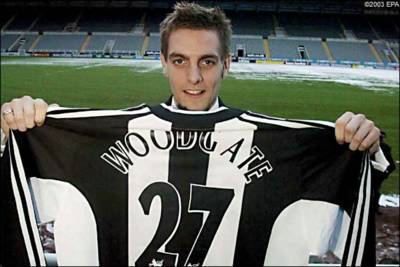 Of course this isn't a foregone conclusion. Firstly he has to have a medical. Anyone who follows football will tell you that Woody is prone to injury. So prone in fact, that he's still not due back to play for Newcastle for another three weeks at least. It's been the story of his career to date.
I'm not sure I have ever seen him really fit. You have to play for a couple of months straight before you get that real first team sharpness. But with Woody you take what you can get and even half fit he's gobsmacking. I've heard it said that pairs of straikers are telepathic. Well Woody is too - but his mental link is with his opponent.
I have never seen a better reader of the game. He doesn't even need to tackle. He just nudges and leans and glides away with the ball. Then he'll launch a 30 yard pass to feet to set another attack in motion.
When he's up against a pacy straiker who knocks the ball and runs, you wonder whether Woody's dodgy knees we'll get him their ahead of his opponent. But, if he doesn't suffer a hamstring injury, he'll win the race. What's more he'll get there first despite it looking like every stride is absolute agony.
Whatever you think you know about English defenders then let me tell you this. Woodgate is twice the player that either Ferdinand or Campbell are. The likes of Terry and King are not fit to clean his boots.
But now he looks like being on his way and I'm not sure what to make of it. We're losing, to my mind, potentially the best defender in Europe. But what use is such a quality player when he spends his time on the treatment table?
But who do we replace him with? The transfer window closes in a matter of days and who else is available? Perhaps Real will give us someone in part exchange. Perhaps we can launch a bid for a British player who will do a job, albeit without a fraction of the style of Woody.
What I really want is a fully fit Woodgate who would last an entire season. I wouldn't swap that for £50m. But I'm starting to realise we will never see that. So maybe £15m is a decent price to take.
So Dyer is going. Woody is going. Perhaps Sir Bobby is just getting rid of his headaches one by one.
I just wish it was bloody Lee Bowyer.
Love, light and peace,
BykerSink
I saw two shooting stars last night I wished on them but they were only satellites. It's wrong to wish on space hardware. I wish, I wish, I wish you'd care.